Life beyond walls…Literal walls…? I paint them. Every town I visit I drive around and look for walls to paint. We all like to climb walls that we set for ourselves, and sometimes it's fun to tear them down entirely.  
Over the past four years, I've been on a spiritual conquest to discover who I am and WTF I'm doing. One advantage I have is putting fear aside and just doing it. Doing something. Becoming an artist full time was a personal achievement for me.  I am passionate and proud of this achievement because I didn't have to think about HOW I was going to do it. I just said, "F*** it! This is what I'm doing."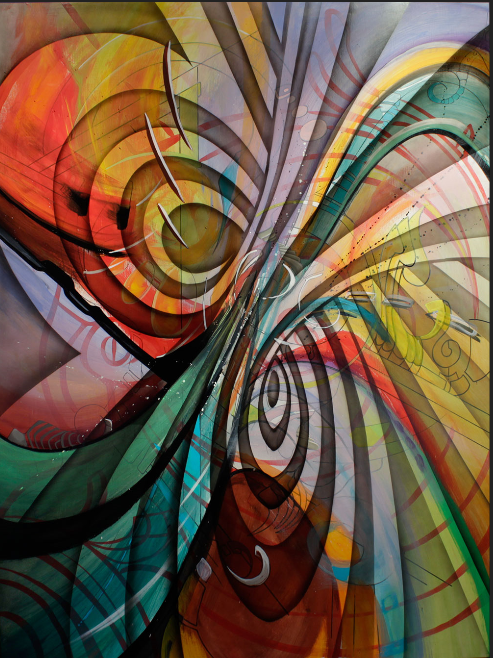 Before my personal revelation, I had worked six years in a fulltime job as a composite fabricator at Flying Lizard Motorsport (a factory Porsche North America sportscar team). I left a lot of cushion, salary pay, retirement, and a lot of other things behind, but it opened a lot of new personal attributes and opportunities that were previously closed off to me. One example is that my awareness has completely changed from where I was. It's apparent, even in my artwork. I've been painting for most of my life; but it wasn't until recently that I became mindful of what I'm trying to do through my work. 
The experience is everything. First-of-all, clarity is important in my world. When I have a clear mindset of what I want, I can allow myself to navigate the experience better. Nowadays people have a lot of things going on. Distractions like iPhones, social media and, political shit – things created for the sole purpose of distraction. I feel it's important for me to focus on what it is that I truly want…
Mindfulness has changed my quality of life. For instance, people go to jobs that they hate, but they stay because they're comfortable. But are they happy? Additionally, most people are at work 30% of their time, but for someone like me, I'm working 50-70% of my time. But I love what I do. When you're at work and you're dreaming about what you're going to do after work, after you've left your "source of income,"then you should be wondering to yourself, "Do I like your job?" If the answer is yes, that's great, but, do you LOVE your job?I'm happy to say that I do. 
We're human and everyday there's so much that breach our comfort zones, pulling us this way and that way. What keeps me balanced and on top of my game are practices like yoga, meditation, and swimming. Sometimes painting is a form meditation for me, when I'm able to get to that balanced mental state it helps me raise my internal energy levels and think clearly. Through these meditations and practices, I'm able to resolve any blockages that I may have whether they are financial, relationship, personal, exterior, and/or interior. With that level of clarity, I'm able to make a good, clean, productive and direct decisions on what I want and what I'm able to do.
I was stoked to work with Smith and implement the Lowdown Focus glasses into my practice. I've done enough meditation that I can snap into it. When you practice anything for a matter of time, it gets easier to get into that zone. I also study Chinese metaphysics, so I guess you could say, I'm chasing Qi. In Chinese Metaphysics, what directions you are in during meditation have a great effect on your quality of meditation. For me, the glasses are a tool to quantify and measure what I'm able to get out of my meditation times and locations. 
Right now, I have what we call in Chinese Metaphysics "White Tiger"energy, meaning I do everything fast and with a lot of increased stamina.  The benefit of being my own boss means that I can stack my day for optimal benefit. I'm able to pack a lot into my days and be in multiple careers and areas of study at the same time. 
I don't have a routine work schedule. Some days I'm fine getting into work about ten o'clock. I usually get up early for a swim at the gym, make my own breakfast and lunch at home, and take my dog for a walk around our property in Penngrove (singer/songwriter Norman Greenbaum aka "Spirit in the Sky"used to live on this property). Conveniently, my art studio is on the same property. 
Some days I'm building custom cars, rocking a hazmat "Moon Suit"that I custom made for fiberglass work and some days I'm exclusively doing art work, studio paintings, and custom murals for companies and working with brands on art projects. I also do some photography as well as video production. I'd say that, creatively, I'm all over the map. Some days I move from one project to another, working into the night, some nights I study metaphysics, and some nights I find balance by grabbing a beer at my local watering hole. 
I love being outdoors. I love camping probably the most. I love discovering new trails and new places to camp. Some of my favorite camping memories are at annual tips where I go camping with family and friends. To be completely honest, I'd like to be outside right now, rock climbing and backpacking, and I want to pick up mountain biking. Those are on my list of things to do in the near future.  
I have a lot of ongoing studio fine art pieces that I'll be working on for over the next year. When those are ready, I'll make announcements for upcoming solo shows. One project I'm excited to be doing next is a very large public mural in downtown Petaluma that really is my way of giving back to the community. It's in the theme of Sonoma Strong.  At 2000 square feet, itis the largest piece I've ever created. It really fits my criteria of, "Why am I doing this. Who I am doing this for. And what it means to me?"
We had some big fires up here recently and they were tragic. Sonoma County and Napa Counties came together during this time. A lot of us were on evacuation lists and some were evacuated before they could grab anything. I had evacuated family staying with me even though I too packed up my belongings as I waited for evacuation with the fire raging just a few miles from my house. 
It's been a really hectic month. It's just been crazy, but things are finally settling down as Sonoma and Napa counties are in '"rebuild mode."Creating public murals makes me feel that I'm doing my job the way I'm supposed to be doing it. We are a strong community and the stronger we are as a community the stronger we are individually. We've become stronger as individuals, by being more aware and more mindful. Strong individuals make up a strong community. 
The second part of this project is beautification of the city. It's a rundown area and it needs a little life. I'm excited to get down there and do what I do to breathe some new life and color to an area where life and color have been long since overdue. I'll be filming the whole thing, so be sure to check back here for the link to the video once it's completed. I'll be wearing my Smith goggles and using the Lowdown Focus to get my Qi up before I go out and paint, you can count on that for sure!
-Ryan Petersen
Want to see more of Ryan's fantastic creations follow the links below.  Or follow Ryan on Instagram @ryanpetersenart or on Facebook @ryanpetersenart.