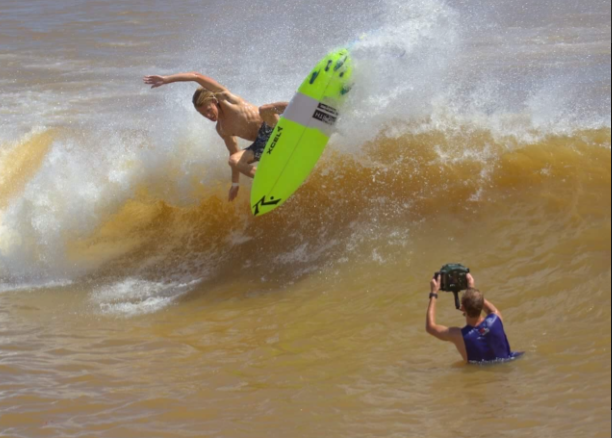 The initial idea for this cross-country trip was sparked when a good friend of mine suddenly decided to move his entire family back to New Jersey over the summer. As the summer time doldrums set in on the West Coast, I really wanted to get away from the routine and do something different… Matt Keenan, my friend who was moving back to East Coast, said I should hop in the moving truck with him and make the cross country trek… So I did. I somehow convinced another friend and filmaker, Kyle Flath, to join us in the Penske moving truck and we were bound for our first stop in Texas.
            Upon arrival in Austin, Texas, we did the first thing that any two surfers would; find the wave pool. We rocked up for the first session of the morning just as they were doing a few test pulls on the pool. The wave is something out of a dream; flawless walls with a barren desert backdrop and a smoothie bar sitting just off to the side. I had no idea what to expect from the wave as it stays and equal distance from the pool side the entire length of the pool.
 My first wave I paddled for and nearly missed, because I felt like I was paddling too close to the pool's fence. I got the hang of things relatively quick and it became second nature. The wind actually played a huge factor as it was blowing offshore on the left and onshore on the right. Being a goofy footer, I stuck to the left as much as I could. I surfed two sessions, each lasting an hour and felt pretty surfed out afterwards.
            We jumped back on the road and hustled towards Nashville. We didn't make it all the way in one day, and ended up stopping in a really interesting part of Arkansas… The mosquitos were plentiful and the comfort food could be smelled as soon as you crossed state lines. I had never been to Arkansas before that point, but from what I could gather, you would be bound for a good southern experience if you wanted one.
After a few pit stops in Little Rock and Memphis we found our way to Nashville. It was a Saturday Night and also my birthday. We figured there would be no better way to celebrate 22 than hopping a few bars and listening to some country music. Incredibly, there were no hangovers and another 13 hours on the road put us at our final destination of Ocean City, New Jersey. OC's finest, Rob Kelly and filmmaker Ryan Simalchik greeted us and showed us the way to some fun summertime surf. The rest of the day was spent in a fun beach-break and the New Jersey Summer sun. The escape from the SoCal summer doldrums was a success!
-Kevin Schulz